Sep 22, 2018; Memphis, TN, USA; South Alabama Jaguars quarterback Evan Orth (14) carries the ball during the first half against the Memphis Tigers at Liberty Bowl Memorial Stadium. Mandatory Credit: Justin Ford-USA TODAY Sports
The Sun Belt lived up to its nickname this past weekend, providing some fun matchups across the board. Before we head to Week 5, take one last look at the Week 4 Team of the Week in the #FunBelt, showcasing the top individual performances across every position.
The Sun Belt Team of the Week is brought to you by Eckrich, the Official Smoked Sausage of the College Football Playoff.
Offense
Quarterback
Evan Orth, South Alabama
Week 4 overall grade: 86.7
Running Back
Trey Ragas, Louisiana
Week 4 overall grade: 83.4
Running Back
Marcus Outlow, Coastal Carolina
Week 4 overall grade: 79.3
Wide Receiver
Dominique Heath, App State
Week 4 overall grade: 92.1
Wide Receiver
Deondre Douglas, Troy
Week 4 overall grade: 85.3
Wide Receiver
Jamarius Way, South Alabama
Week 4 overall grade: 81.3
Tight End
Keenen Brown, Texas State
Week 4 overall grade: 94.5
Offensive Tackle
Ethan Howard, Coastal Carolina
Week 4 overall grade: 74.1
Offensive Guard
Shamarious Gilmore, Georgia State
Week 4 overall grade: 73.2
Center
Bobby Reynolds, UL-Monroe
Week 4 overall grade: 70.0
Offensive Guard
Tristan Crowder, Troy
Week 4 overall grade: 72.7
Offensive Tackle
Chandler Greer, App State
Week 4 overall grade: 73.0
Defense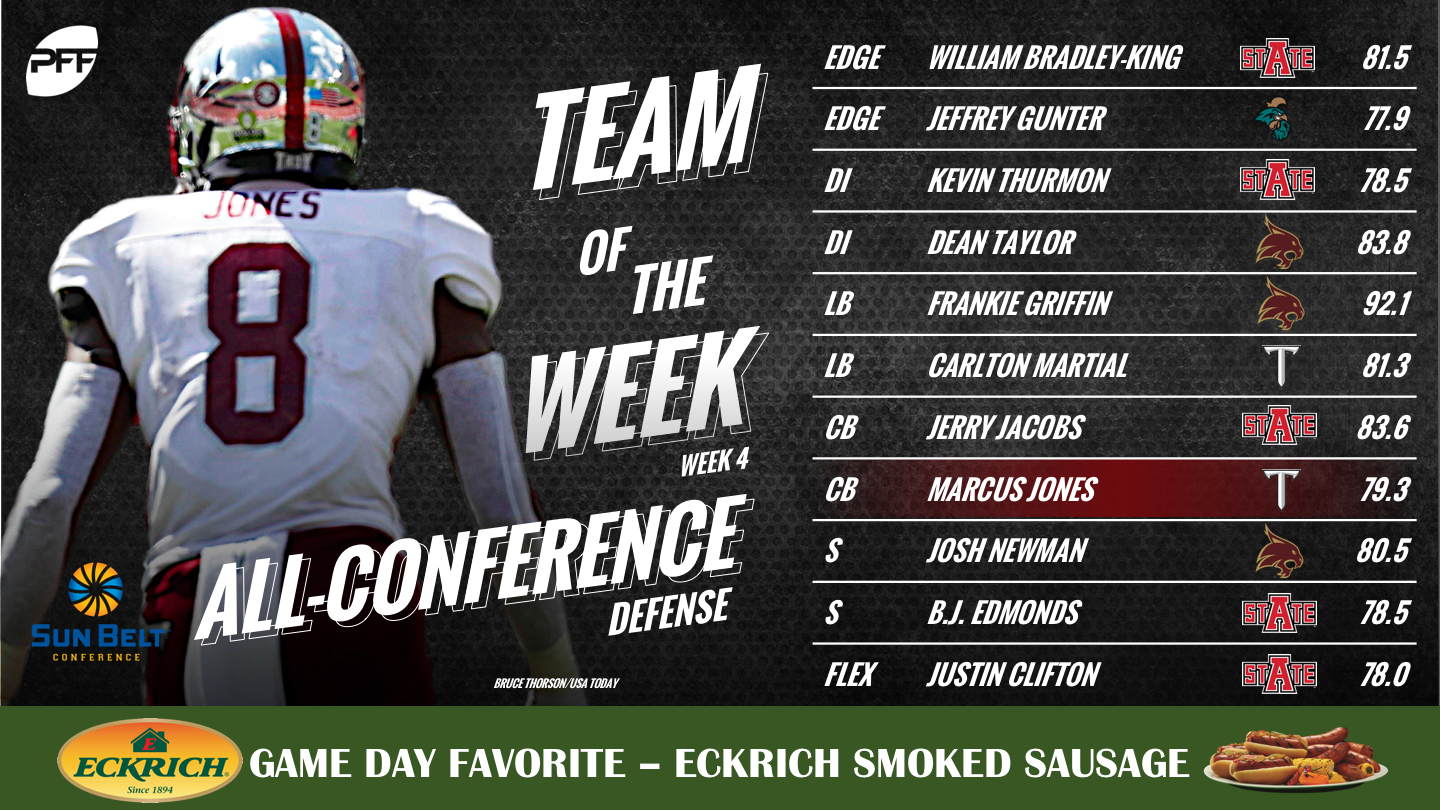 Edge Defender
William Bradley-King, Arkansas State
Week 4 overall grade: 81.5
Edge Defender
Jeffrey Gunter, Coastal Carolina
Week 4 overall grade: 77.9
Interior Defensive Lineman
Kevin Thurmon, Arkansas State
Week 4 overall grade: 78.5
Interior Defensive Lineman
Dean Taylor, Texas State
Week 4 overall grade: 83.8
Linebacker
Frankie Griffin, Texas State
Week 4 overall grade: 92.1
Linebacker
Carlton Martial, Troy
Week 4 overall grade: 81.3
Cornerback
Jerry Jacobs, Arkansas State
Week 4 overall grade: 83.6
Cornerback
Marcus Jones, Troy
Week 4 overall grade: 79.3
Safety
Josh Newman, Texas State
Week 4 overall grade: 80.5
Safety
B.J. Edmonds, Arkansas State
Week 4 overall grade: 78.5
Flex Defense
Justin Clifton, Arkansas State
Week 4 overall grade: 78.0