Sep 22, 2018; Iowa City, IA, USA; Wisconsin Badgers quarterback Alex Hornibrook (12) looks to hand the ball off during the first quarter against the Iowa Hawkeyes at Kinnick Stadium. Mandatory Credit: Jeffrey Becker-USA TODAY Sports
The Top-5 matchup between Ohio State and Penn State looms large over Week 5 but before we look ahead, we must look back one last time at the top performances from Week 4 in the Big Ten. Alex Hornibrook takes home the conference's QB of the Week honors for the third time this season as he's been off to a tremendous start despite the slip up against BYU.
The Big Ten Team of the Week is brought to you by Eckrich, the Official Smoked Sausage of the College Football Playoff.
Offense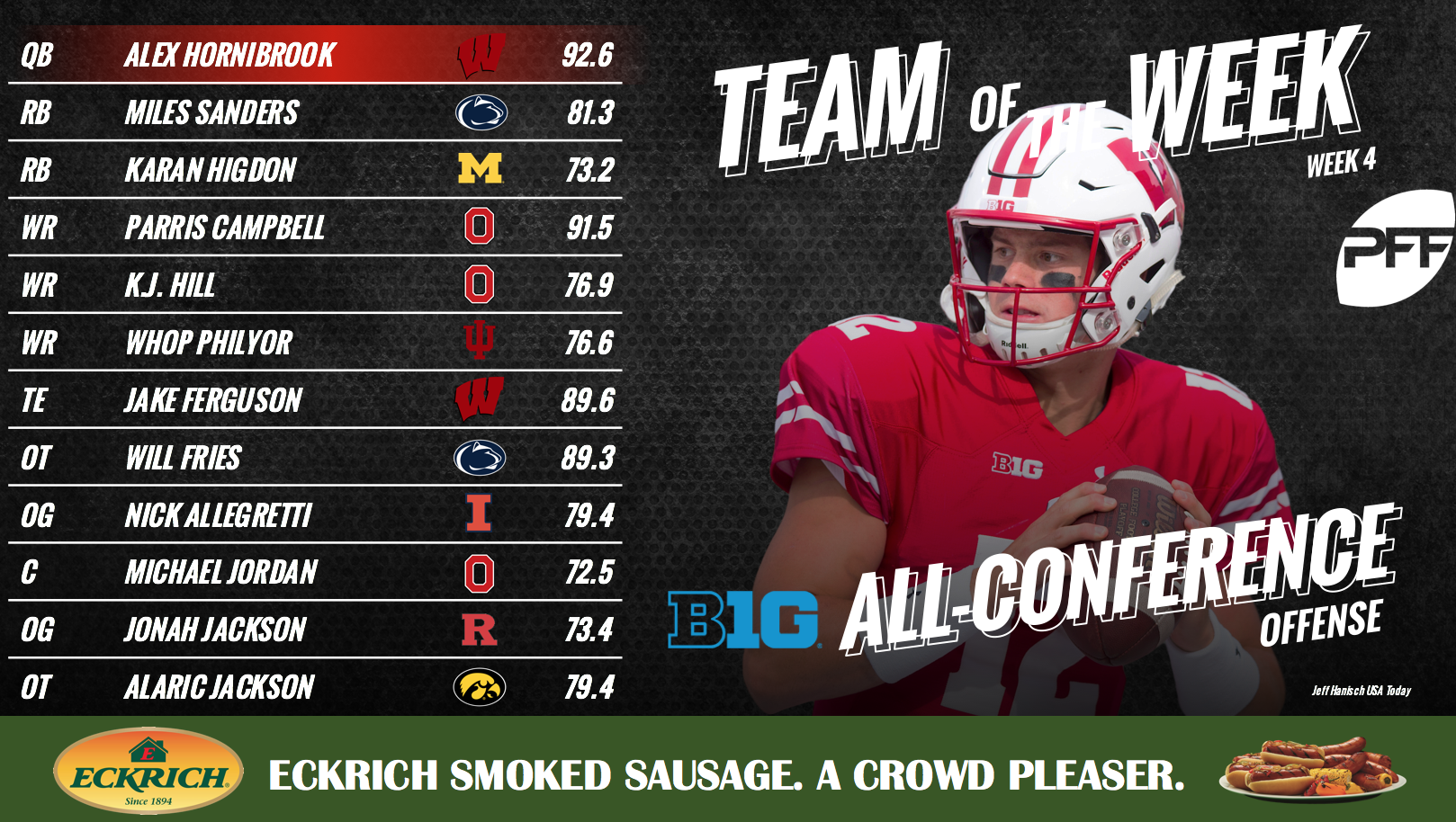 Quarterback
Alex Hornibrook, Wisconsin
Week 4 overall grade: 92.6
Running Back
Miles Sanders, Penn State
Week 4 overall grade: 81.3
Running Back
Karan Higdon, Michigan
Week 4 overall grade: 73.2
Wide Receiver
Parris Campbell, Ohio State
Week 4 overall grade: 91.5
Wide Receiver
K.J. Hill, Ohio State
Week 4 overall grade: 76.9
Wide Receiver
Whop Philyor, Indiana
Week 4 overall grade: 76.6
Tight End
Jake Ferguson, Wisconsin
Week 4 overall grade:  89.6
Offensive Tackle
Will Fries, Penn State
Week 4 overall grade: 89.3
Offensive Guard
Nick Allegretti, Illinois
Week 4 overall grade: 79.4
Center
Michael Jordan, Ohio State
Week 4 overall grade: 72.5
Offensive Guard
Jonah Jackson, Rutgers
Week 4 overall grade: 73.4
Offensive Tackle
Alaric Jackson, Iowa
Week 4 overall grade: 79.4
Defense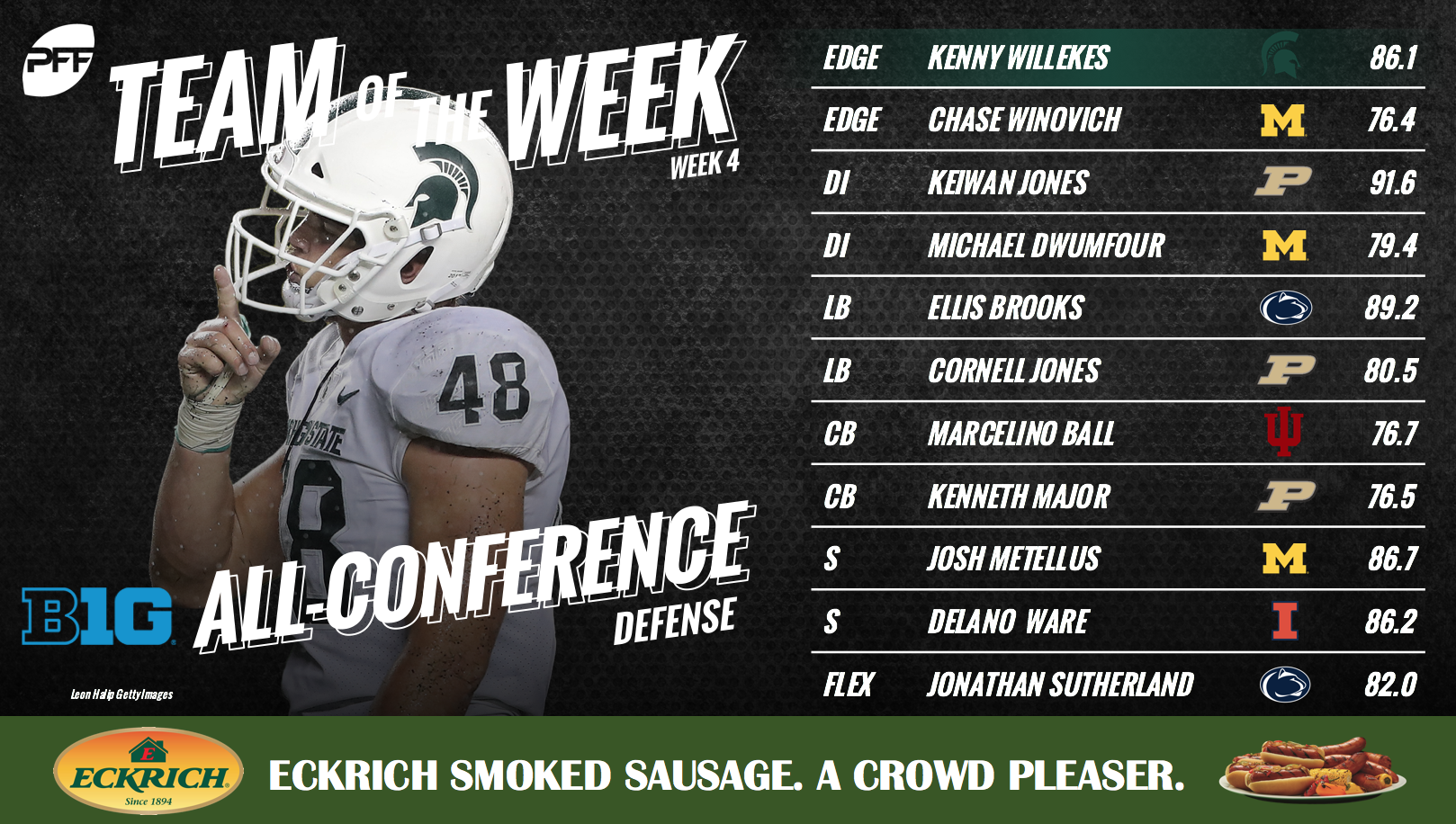 Edge Defender
Kenny Willekes, Michigan State
Week 4 overall grade: 86.1
Edge Defender
Chase Winovich, Michigan
Week 4 overall grade: 76.4
Interior Defensive Lineman
Keiwan Jones, Purdue
Week 4 overall grade: 91.6
Interior Defensive Lineman
Michael Dwumfour, Michigan
Week 4 overall grade: 79.4
Linebacker
Ellis Brooks, Penn State
Week 4 overall grade: 89.2
Linebacker
Cornell Jones, Purdue
Week 4 overall grade: 80.5
Cornerback
Marcelino Ball, Indiana
Week 4 overall grade: 76.7
Cornerback
Kenneth Major, Purdue
Week 4 overall grade: 76.5
Safety
Josh Metellus, Michigan
Week 4 overall grade: 86.7
Safety
Delano Ware, Illinois
Week 4 overall grade: 86.2
Flex Defense
Jonathan Sutherland, Penn State
Week 4 overall grade: 82.0