Sep 21, 2018; Orlando, FL, USA; UCF Knights quarterback McKenzie Milton (10) reacts after a rushing touchdown during the second half against the Florida Atlantic Owls at Spectrum Stadium. Mandatory Credit: Reinhold Matay-USA TODAY Sports
UCF QB McKenzie Milton put on a show this past weekend, vaulting himself back into the Heisman talks as we move along. Before we head to Week 5, however, we take one look back at the top individual performances from Week 4 in our AAC Team of the Week.
The AAC Team of the Week is brought to you by Eckrich, the Official Smoked Sausage of the College Football Playoff.
Offense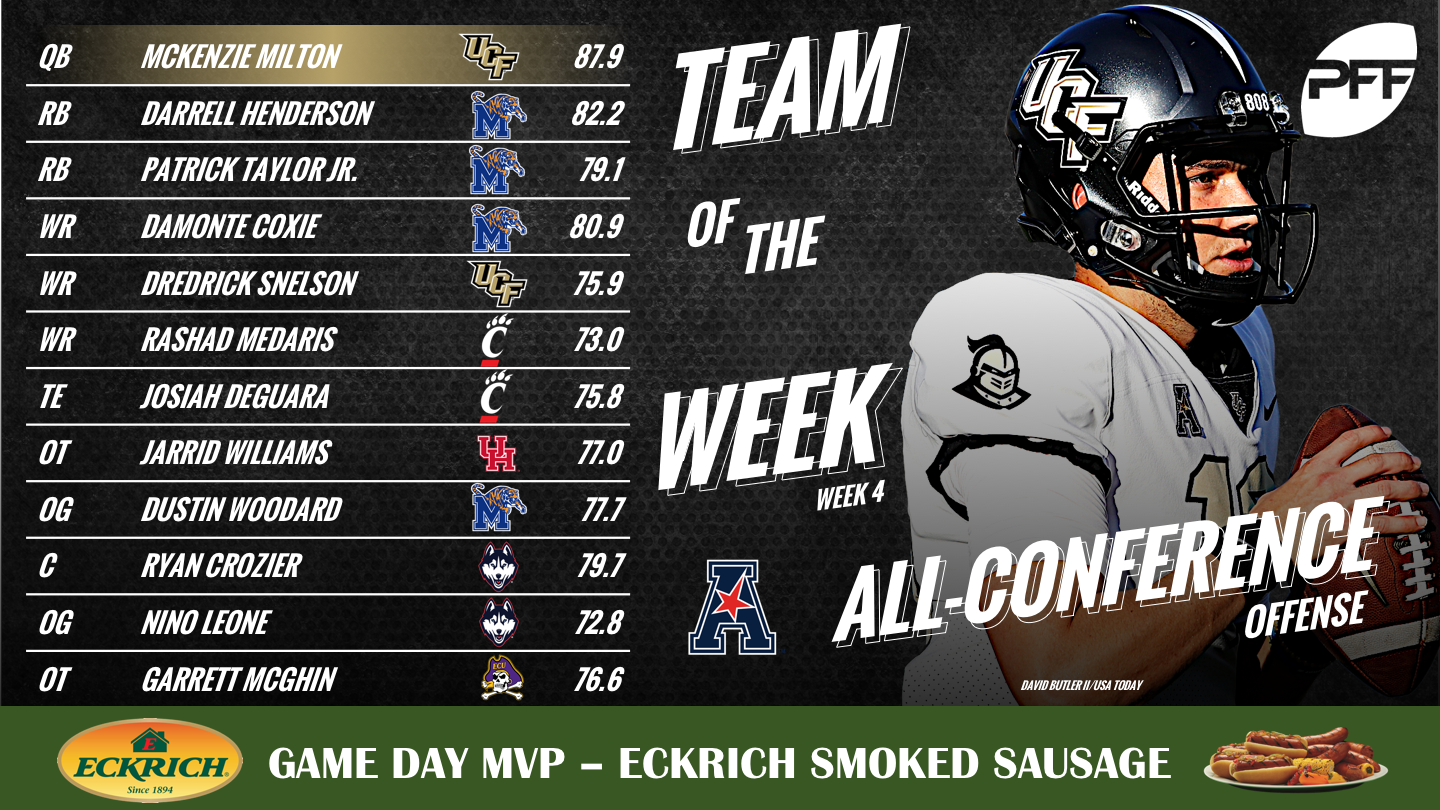 Quarterback
McKenzie Milton, UCF
Week 4 overall grade: 87.9
Running Back
Darrell Henderson, Memphis
Week 4 overall grade: 82.2
Running Back
Patrick Taylor Jr., Memphis
Week 4 overall grade: 79.1
Wide Receiver
Damonte Coxie, Memphis
Week 4 overall grade: 80.9
Wide Receiver
Dredrick Snelson, UCF
Week 4 overall grade: 75.9
Wide Receiver
Rashad Medaris, Cincinnati
Week 4 overall grade: 73.0
Tight End
Josiah Deguara, Cincinnati
Week 4 overall grade: 75.8
Offensive Tackle
Jarrid Williams, Houston
Week 4 overall grade: 77.0
Offensive Guard
Dustin Woodard, Memphis
Week 4 overall grade: 77.7
Center
Ryan Crozier, UConn
Week 4 overall grade: 79.7
Offensive Guard
Nino Leone, Uconn
Week 4 overall grade: 72.8
Offensive Tackle
Garrett McGhin, ECU
Week 4 overall grade: 76.6
Defense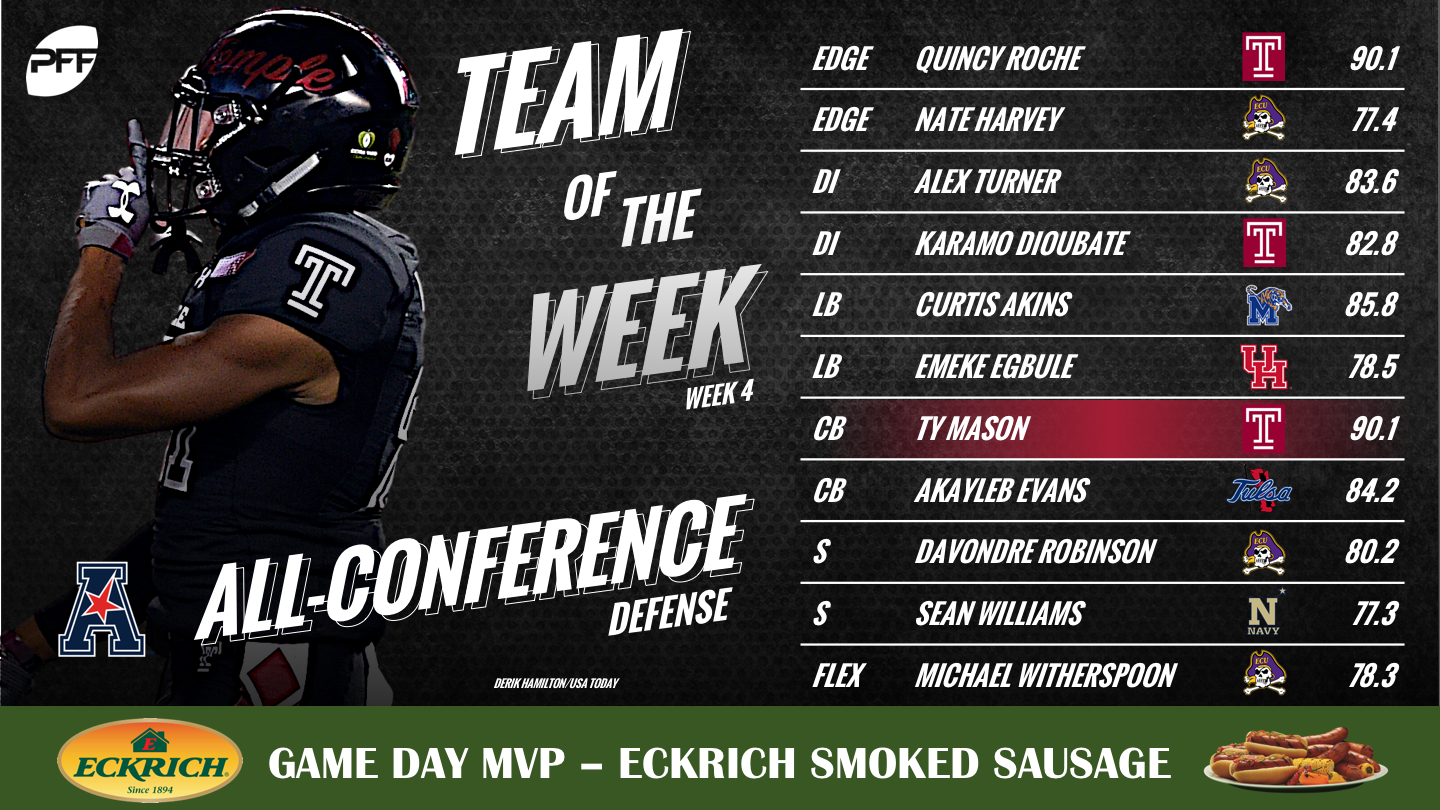 Edge Defender
Quincy Roche, Temple
Week 4 overall grade: 90.1
Edge Defender
Nate Harvey, ECU
Week 4 overall grade: 77.4
Interior Defensive Lineman
Alex Turner, ECU
Week 4 overall grade: 83.6
Interior Defensive Lineman
Karamo Dioubate, Temple
Week 4 overall grade: 82.8
Linebacker
Curtis Akins, Memphis
Week 4 overall grade: 85.8
Linebacker
Emeke Egbule, Houston
Week 4 overall grade: 78.5
Cornerback
Ty Mason, Temple
Week 4 overall grade: 90.1
Cornerback
Akayleb Evans, Tulsa
Week 4 overall grade: 84.2
Safety
Davondre Robinson, ECU
Week 4 overall grade: 80.2
Safety
Sean Williams, Navy
Week 4 overall grade: 77.3
Flex Defense
Michael Witherspoon, ECU
Week 4 overall grade: 78.3